I don't know why, but I just have a weird feeling towards this colour. Don't get me wrong, I truly find this colour intriguing, it just that the ambiguity of this colour drives me nuts. You couldn't really "differentiate" its true colour, whether it is more of a reddish-brown or a brownish-red. I can get really particular when it comes to figure out what colour it REALLY is.
I mean, if there is more of a pinkish undertone, it should be classified under the "red" box, and if there is more of a mild yellowish tone, it should be in the "brown" box, right? The same case happens this year, when the colour of the year is Radiant Orchid. I couldn't really classify them into pink or purple. At the end I just ended up not really liking the colour.
(As a colour lover, the struggle is real.)
Photo credits to: Jessica Yu @UjessU
Marsala looks like brown here to me.
But in this photo, it looks more like burgundy. I secretly hope that the colour would have more of a red undertone so that I can just assume this colour is burgundy, which reminds me of FALL. Ahhh such a pretty colour and season. ;_;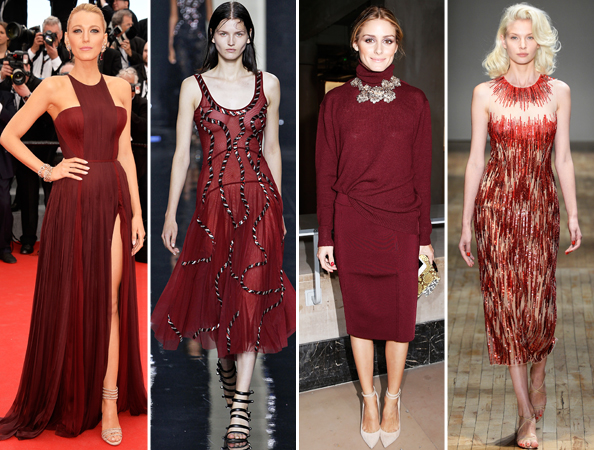 Photo credits to: aawep.com.au
They make AWESOME wedding colour palette too! Much class I KENOT.
AHHHH. WHY CAN'T THEY STANDARDISE THE COLOUR.
(Rolling on the floor OCD-ing)
Photo credits: Pantone
You can always get some clues of COTY from Pantone's Spring palette. So I guessed the COTY should be strawberry ice, custard, lucite green OR classic blue.
I thought custard has the highest chance to be the COTY 2015 because they had a pinkish-purple tone (Radiant Orchid) in 2014 (so it's not likely to be strawberry ice), green hue (Emerald Green) in 2013 (so no lucite green), classic blue might be a staple colour for everyone already so no point making it as the COTY.
But I never thought that they would choose such a neutral, earthy colour. As compared to COTY 2014, the COTY 2015 is lack of radiance (pun intended HAHA). However, now that I have done some thinking, it actually make sense. This year, Pantone collaborated with Sephora to make cosmestic sets using the colour Radiant Orchid. Of course, if they still want to collaborate with Sephora, they have to choose some colour that is more wearable, like Marsala. A Marsala coloured lipstick sounds like a great idea! It would make great eyeshadows too! This colour really flatters every skin tone. So, I guess this COTY is still a YES from me? We shall see.
:)
Love,
Dandioy