Do I regret taking IB? I believe this is the question everyone of us in IB pondered on all the time. For those who don't know what is IB, here is the definition of IB:
A.K.A. International Baccalaureate - A malicious program aimed at the unnaturally brighter population in an attempt to overload their brains, thus reducing them to vegetables without lives. However, a true IB student will respond by adapting and bullshitting their way through.
Okay, just kidding this definition is from
Urban dictionary
. :P
Here is the definition of IB in Wikipedia:
The International Baccalaureate (IB), formerly the International Baccalaureate Organization (IBO), is an international educational foundation headquartered in Geneva, Switzerland and founded in 1968. IB offers four educational programmes for children aged 3–19. The organization's name and logo were changed in 2007 to reflect a reorganization. Consequently, "IB" can refer to the organization itself, any of the four programmes, or the diploma or certificates awarded at the end of the diploma programme.
What is the Diploma Programme? [from ibo.org ]
The IB Diploma Programme (DP) is an academically challenging and balanced programme of education with final examinations that prepares students, aged 16 to 19, for success at university and life beyond. It has been designed to address the intellectual, social, emotional and physical well-being of students. The programme, has gained recognition and respect from the world's leading universities.
IB in Malaysia
You see, there is three stages of IB, which is Primary Programme, Middle Years Programme and Diploma Programme. IB is fairly new in Malaysia but personally I think after a few years IB will slowly gain its popularity in Malaysia. People nowadays tend to go for Cambridge A Levels because CAL is such a popular programme and it is considered "safer" than IB.
So far, there are 16 IB World Schools in Malaysia offering one or more of the three IB programmes. 5 schools offer the Primary Years Programme , 4 schools offer the Middle Years Programme and 14 schools offer the Diploma Programme. -- IBO
Schools in Malaysia that offer IB [screencap from IBO]
There are MANY people asking me, WHY IB when you can choose Matriculation, STPM, CAL, SAM, CPU and other foundation programme?
First of all, I would like to tell you guys how I get exposed to IB. The story goes: There was an IB school in Singapore came all the way from Singapore to Sibu, Sarawak to introduce this programme to us. The school was Hwa Chong International School. They wished to have some of their prospect students from our school. Since I went to their school before for Asian Youth Chinese Forum 2011 [you can see the post HERE], I was very impressed by their students. I just loveeeeee
the way their students carry themselves,
the confidence and self-esteem they possess,
the design of their uniforms (I actually prefer uniforms than casual wear at least I don't need to crack my head thinking what to wear to school everyday),
the international atmosphere they are in and
the fact that they are a bilingual (English and Mandarin) school, which is a PLUS POINT.
I always wished to continue studying Mandarin after SPM because of my love towards Mandarin language. However, sadly I don't get the scholarship for this school. (I was down for three days as it had been my dream school for 2 years) I was planning to apply to CAL just like most of my friends do. But then I saw IB appearing on my MOE school list. The idea of studying IB stroke me. Why not study IB in Malaysia
even though it might not be as good as in Singapore
?
Anyways, I believe God will have a better plan for me, if He closes the door, He will open another window for me.
I face a lot of struggles choosing IB. People kept bombarding me with questions like:
What the hell is IB?
Why don't you just go Matriculation since you got the offer already? It's free and cheap and bla bla bla...
What don't you go A-level / CAL? Most of your seniors do this and you should just follow their paths just to be safe...
WHY THE HELL you choose IB when you got a JPA scholarship?
WHAT THE HECK?! YOU REJECTED JPA? ARE YOU OUT OF YOUR MIND?
IB? Is that International Business? [OH GOD LET ME DIE *facepalm*]
So these are the 10 reasons why I have chosen IB:
REASON 1: It is not 100% exam orientated. (70% exam based)

Being a government school student for 11 years, I would like to try out something new. I would like to study a programme which is different.
REASON 2: IB aims to mould you into an all-rounder.

IB offers 6 subject groups, which is language, additional language(s), the social sciences, the experimental sciences and mathematics. You may choose either an arts subject from group 6, or a second subject from groups 1 to 5. In my case, I had chosen English Literature (SL), French ab (SL), Psychology (SL), Chemistry (HL), Biology (HL) and Mathematics (HL). In IB, you study both arts and sciences, which I really appreciate because I am never a 100% art or science students. I am always in between and I always an avid believer of "Art + Science = Wonder". If you can never decide which discipline you want to go to in university, IB is for you as you get to expose yourself to all type of subjects.
REASON 3: IB is highly recognised by universities all over the world.

especially in the US! US universities appreciate students who don't just merely focus on one thing. If you are going to apply for US universities, you should be aware that the US universities they look at your personality and not just your grades, unlike UK universities who are 100% academic based.
REASON 4: IB teaches you to know the world.

In English Literature, we learn translated works like THE CHERRY ORCHARD (Russian), WOMEN AT POINT ZERO (Saudi Arabian) and classics like ROMEO AND JULIET, I KNOW WHY THE CAGED BIRD SINGS, MAUS...It enables you to learn the world from other perspectives. We learn about cultures indirectly from the literatures and it opens my mind.
In French, we learn French (what am I talking about). Being an IB students we don't just learn one language. Besides that, learning French sounds so fancy right. LOL At first I was quite disappointed because in Taylor's College Sri Hartamas they don't offer Mandarin language. I don't mind if they let me take Mandarin Literature HL. At least I don't need to spend extra time learning a new language. But then I think, what is the point of IB when I just want to study my own first language and just dwell in my comfort zone? IB is meant to let students stepping out of their comfort zone and be a risk taker.
REASON 5: Speaking of being a risk taker, let me list out the IB LEARNER PROFILE. *again, so fancy LOL*

Photos credits to : http://www5.milwaukee.k12.wi.us/
According to the IBO, the IB learner profile is the IB mission statement translated into a set of learning outcomes for the 21st century. Which means, after finishing your IB, you will be able to possess these 10 qualities.
REASON 6: IB gives you an insight into every discipline. If you are uncertain about your future, then you can just join IB and venture into all the 6 subject groups! I'm sure that you will discover your interest afterwhile, because of the internal assessments (IAs) and assignments the teachers given to you. People might say that IB's syllabus is board and not as in-depth as CAL's but bear in mind that, in IB, we have IAs which give you the opportunity to research a subject/area you are interested in.

Btw, what is Internal Assessment you might ask. According to IBO,
IA includes:

oral work in languages
fieldwork in geography
laboratory work in the sciences
investigations in mathematics
artistic performances.

Basically IA is a kind of assignment but a huge one. Understand?
REASON 7: IB trains you to be an independent learner. Being a government school student, all I do is swallowing everything my teachers gave me and vomitting out everything on my test paper. The traditional way of spoon-feeding method. In IB, the teachers will guide you to do your work. And you will realise that we gain a lot of informations by asking our seniors (at least in my college it is)
REASON 8: IB stresses the hell out of you. YES THIS IS ONE OF THE REASONS I CHOOSE IB, BE AMAZED. I would like to put myself into a stressful situation. Sounds weird? Did you ever heard of the story of the coffee beans? The more pressure you put on the coffee beans, the better the coffee will taste. I want to be the coffee, I want to stress myself and I want to bring the best out of myself. I always believe that stress can make a better individual. ( Even though I feel like I'm dying right now. We just finished our Group 4 project and I felt so relieved!) IB is a programme full of DEADLINES. You exceed the deadline, YOU DIE. Be prepared to buy 10 packs of 3-in-1 Nescafé coffee to help you survive through all those sleepless nights!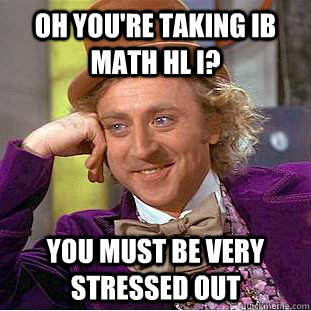 REASON 9: Meeting all types of people! Since this is IB, it makes sense that there will be a lot of international students. In TCSH, we have friends from Iran, India and Bangladesh. Let's say if you study CAL, you will most likely being placed in a class with friends who take exactly the same subjects as you. In IB, I have friends who take Theatre, Economics and Business. We get to mingle around and know their subjects and assignments.
REASON 10: It is all about life experiences! I mean, we only have one college life right? Why not make the best out of it? In IB, we need to have an international service trip (depends on your school, in our case, our college had chosen Cambodia for us since our seniors were there last year) We will get to teach the Cambodian children in their school, cook for them and build houses for them! I'm getting excited now just thinking of it! Haha. As you can see, IB is not about STUDY, STUDY and STUDY.
Of course, there are some cons to study IB (don't say me bias ah):
REASON 1: IB stresses the hell out of you. Yes, this can be both the pro and the con of IB. I feel like I'm contradicting myself, but this is the truth. I seriously have a love-hate relationship with IB.
REASON 2: IB is expensive. If you are not sponsored by any scholarships, the study fee could be crazily high, around RM 100,000++? Even though you are sponsored by scholarship like me, you still need to pay the money for the international trips and textbooks. [These are some additional expenses you need to pay even though you are studying other programmes, such as the test fees for SAT (if you are applying to US), IELTS (if you are applying for UK), TOEFL (If you are applying for US), UKCAT & BMAT (If you are applying for medicine)] If you are going to attend some workshops, you still need to pay for RM 500++. (Crazy, I know.) P/s: if you are under MOE scholarship like me, they will only pay for your IELTS test only.
REASON 3: You can hardly have time for yourself. If you are not willing to sacrifice your private time to study/work on assignments/doing your CAS activities, IB might not be a good idea for you. Go shopping at weekends is a luxury for us. I need to squeeze a little of my time everyday to type this post.
Okay, finishing the pros and cons of IB, now you might ask me, why choose TAYLOR'S COLLEGE SRI HARTAMAS?
Ministry of Education (MOE) Bursary only gives us two options, which is TCSH and KDU.
Taylor's College has a very nice reputation.
I had seen 40 IB scorer being produced from TCSH.
TCSH is relatively small compared to TCSJ. I like the small class environment. I feel like the community is more closely-knitted!
IB is like a big family for me! The seniors and juniors have very close relationships.
If you are interested how's my IB life, here is a link >>HERE<<
Finally finished this longggggg post! If I have any grammatical mistakes, please forgive me. I have barely have time to sleep so just comment my mistakes below so that I can make amendments! Hope you like this post and remember to share this to your friends who are having dilemma whether choosing IB or not! I struggled a lot last year, so I hope that this year my juniors can have a little guide from me.
A little bible verse to share:
…And not only this, but we also exult in our tribulations, knowing that tribulation brings about perseverance; and perseverance, proven character; and proven character, hope; and hope does not disappoint, because the love of God has been poured out within our hearts through the Holy Spirit who was given to us.
-- Romans 5:4 Bible
P/s: I realized I didn't answer my question above haha. The answer is unknown. I will tell you after I finish IB. So stay tuned! :P
Cheers,
Dandioy